Below is a transcript of the presentation made at the iGaming summit in Malta. I want to share this with the marketing community and all the PPC practitioners who work around the clock globally:
"It is an honour to be in a room with great people today. In our mobile first digital world, many of you work tirelessly behind screens to produce the success stories we celebrate here at this event.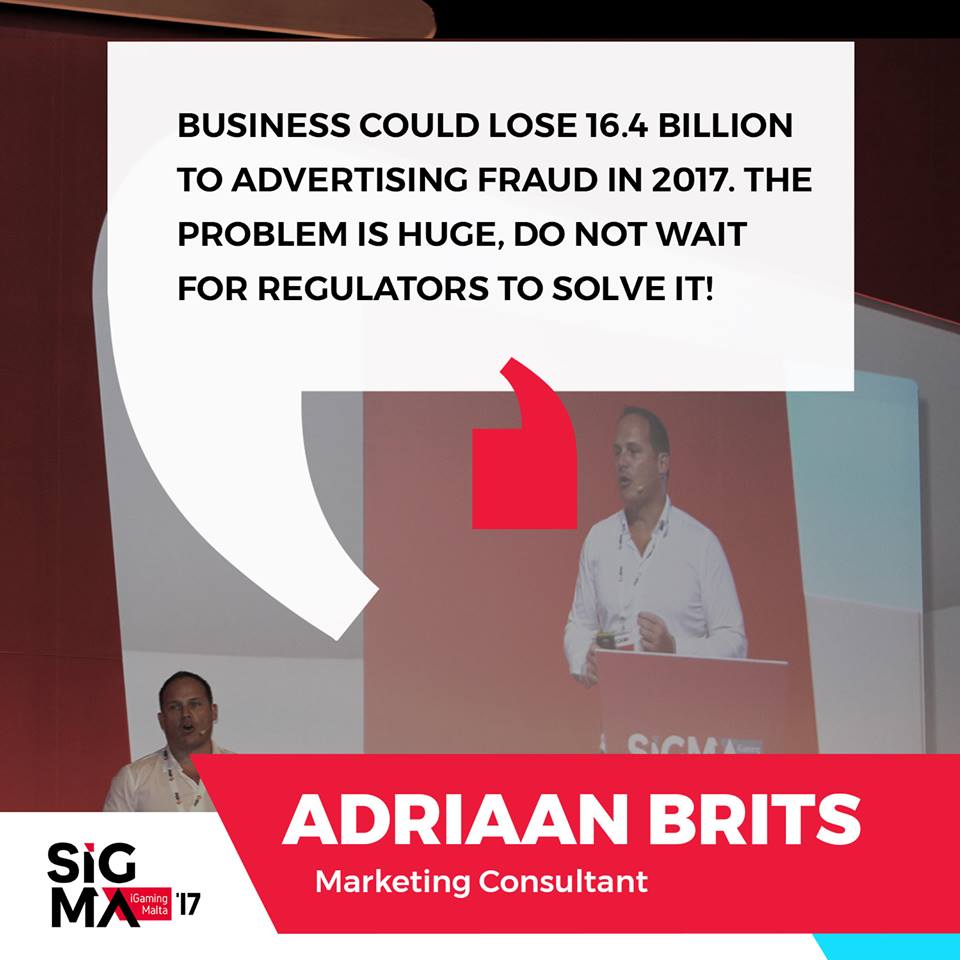 If I may pose two questions to you:
Who here would consider the Google and Facebook duopoly to be significant factors in your business, let alone daily lives?
Who here is confident that each click you buy from Google and Facebook were carried out by people who genuinely intended to visit your sites?
Back in 2015 the IAB estimated that internet advertising in the US alone would gain $8.2Billion by eliminating flaws within the supply chain. Now in 2017, independent researchers pegged this number at $16.2Billion globally. There is an article I contributed for the Sigma magazine which is now online, where you can learn more about the root causes of this challenge. I did the same in the latest Advanced Adwords course that Linkedin Learning provides to marketing agencies worldwide.
Since the magnitude of these supply chain flaws potentially exceeds the GDP of Malta, I am sure you will agree that too much emphasize is placed on "fake news", as opposed to the very real issue of "fake clicks". Perhaps I could put this into perspective for everyone here.
Let's imagine you get into a time machine with me, we're turning the clock back by 20 years. Imagine yourself on the high street, managing a highly successful betting business AND a poker room opposite the road. You rely on a leafletter to go out and distribute your leaflets. For a few months, he delivered the first 1000 leaflets for the day and dropped the other 1000 in the bin to spend the afternoon at his girlfriends' apartment. Just because your business survived well through other means, should you let the leafletter continue dropping 1000 leaflets per day in the bin? Could we possibly tell the leafletter that going forward, it is OK to audit himself we're happy to take his word for it?
Fast forward to where we are today: Your leafletters are Google, Facebook and Bing. Today I will stop short of saying someone is dumping your ads in the bin on purpose. But I could not suggest that you allow them to keep self-auditing and accept whatever account adjustment they see fit. Just as we relied on credible, unbiased audits for printed newspapers and leafletters, so do we need the same for pay per click and other digital media. It would be unfair of me to single out Google since they are merely the tallest tree. This involves every platform.
If you're here today because you're great at optimizing customer lifetime value or quite capable of buying out other businesses, it does not mean you should miss out on the opportunity to deal with the fact that up to 30% of your PPC budget could be spent on invalid activity. PPC auditing should be at the heart of your conversion rate optimization. We want to give marketing teams the confidence to do this well.
After years of helping some of the best CFO's get control over their advertising budget, I've learned a few things worth sharing with you today. For digital media buying you need to know the following:
Most pay per click platforms will at first dismiss your claim, passing blame to your PPC or UX teams. Knowing appropriate audit metrics are essential so that we do not to put our own teams under undue pressure. I cannot stress this enough from an HR perspective.
Each platform will respond differently to the facts we present to them in an audit. Google in particular is amenable and very keen to avoid mediation by EU regulators. They are usually quick to make refunds and adjustments. Some other platforms persist along the defensive line – hence we tend to deal with them in different ways.
We have found ways to solve this matter with ALL platforms, in a way that allow us to continue our partnership with them. But at present, they persist in solving this on a case by case basis since many businesses fall at the first hurdle and blame their PPC & UX teams.
Getting your staff training for conversion rate optimization from the same platforms who provide the service to you – or hiring an ex Googler does not solve the problem. It is like buying a faulty air defence system from your enemy. For this reason I made a point to develop vendor neutral training to marketing agencies so they can break away from the pack and get include auditing as part of their conversion rate optimization.
We now have metric combinations in place to provide clear evidence and take undue pressure off our own staff where appropriate.
I am incredibly optimistic that over the next 2 years all of you sitting here today can help me make my role redundant by pushing for regulation that will make a pay per click bill as reliable as a mobile phone bill. But until that happens, we've got a lot to do.
While we are waiting for regulators to catch up with technology, ad fraud and invalid activity is costing businesses billions each year. You can solve it – or we can solve it in partnership with you. I invite you to reach out and collaborate as this is gaining momemtum. As Europeans we should also partner with our regulators to ensure that we do not raise small anti-trust fines that are payable to government, but focus on the bigger issue, which is to return money to advertisers and their shareholders, who are the lifeblood of the economy. This will involve setting clear benchmarks that will give the advertiser more confidence peace of mind in their media buying.
We have time now for just a few questions. When we run out of time, contact@driaanbrits.com is my email, I'd love to share information with you. "