With the rise of programmatic most PPC campaign managers have a good idea on how to re-engage B2B prospects who are already in the funnel, however there is no authoritative solution yet on a full-funnel approach. We're about to launch a new course at Linkedin Learning on programmatic advertising foundations where I hope to share with you several ideas that are already solving this very critical need.
For now, I'd like to show you how you can use a combination of Linkedin B2B targeting, followed by a Google and/or Facebook remarketing campaign which will ultimately progress towards the CRM end of your funnel. Each time you progress to the next phase of the funnel, the cost curve will reduce significantly.
Observe the following diagram. Please take a snapshot so that you have a mindmap of where we'll be heading next: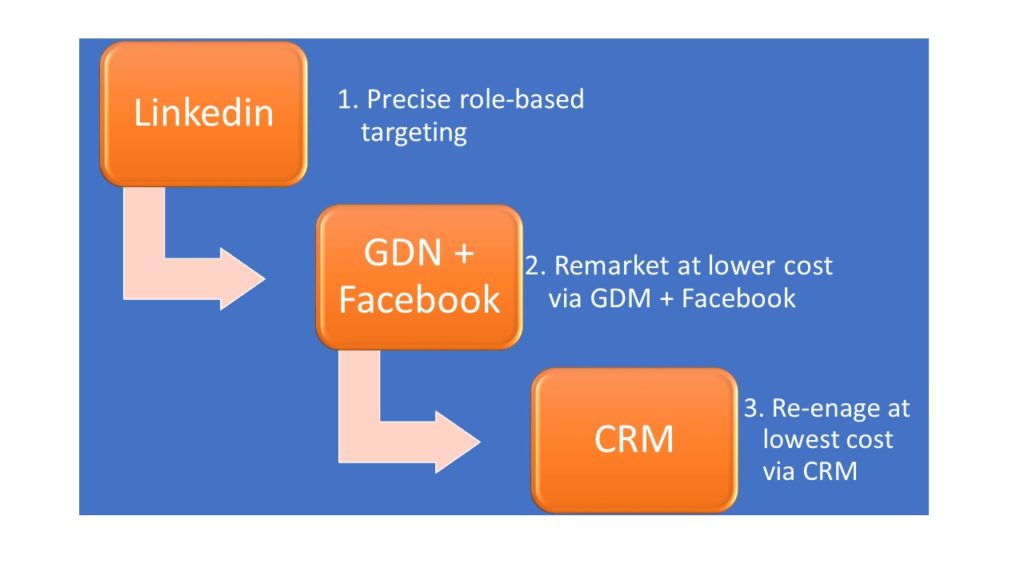 Let's get started with Phase1:
This is essentially where you would use Linkedin to target people by role and location. The very essence of your B2B list is contained at this critical junction: You are qualifying the prospects stricly based on the following criteria:
Role (Let's imagine you only want the following roles on your B2B list: CEO, Director, CFO, CFO and board members)
Location (You may only want to spend this sort of money on a campaign in Europe and the US this quarter)
Company size (Your ideal prospect works in an organization with more than 150 employees)
Naturally you have several more targeting methods in Linkedin, but for most B2B lists and even luxury marketing lists seeking to target certain individuals based on their potential income, this is a very accurate method that does not exist elsewhere on the web (well it does, but Facebook simply does not appeal to many senior people)
How you run the campaign does not matter: It can be through sponsored in-mail or PPC display with Linkedin text ads. In my own experience, text ads with display has a much lower CPC than sponsored in-mail (around 600% to be precise!)
What to remember at this point: Remarketing lists carry a minimum of 1000 in size (GDN & Facebook) so at a CPC of $3 we're looking at $3000 just to get started.
Realistic CPC's to land your visitor: $3 to 5
Now we're onto Phase2:
Here you will set up a remarketing campaign – both in Facebook and GDN (Google Adwords) so that these senior people who visited your site, are now followed around the web. I would not segment them further unless you're looking at volumes of around 25000 clicks, in which case it would make sense – else it would be "over segmentation" which could hurt the success of the campaign.
Things to consider at this point:
Don't over segment
Try to land people on your email list early – even as they hop onto the remarketing list
Realistic CPC's to land your visitor: $1 to $3
Phase 3 is up to you:
If you've not yet intercepted a reasonable part of the traffic by getting them onto your email list / CRM system, now is the time to do that. You'd like to run the campaign from this point forward with a much lower cost per visitor for re-engagement.
Realistic CPC to land your visitor: $0.05
Conclusion:
You're going to hear about Adroll, Facebook, GDN and a range of other DMP's soon. They will be making claims on how their systems are capable of building a B2B funnel. I can't see how that would beat or replace the need for Linkedin, unless you were able to segment search traffic in a way that filtered out undesired profiles. Currently, if you want new leads, I see onlytwo options to build a B2B programmatic campaign:
Linkedin at the beginning of the funnel: Or can you think of anything more affordable, automated and accurate?
Straight to Phase 2, with accurate email lists: OK, if you have email lists for CEO's it can be integrated with a remarketing campaign, but there is no guarantee that the user will be logged into the device associated with a gmail or outlook account, which reduce your chances to meet the user where they are!