Brands do not require much evangelism when their strategy represents an ace and such is the case with Microsoft. It was quite recent when Peter Thiel said "a bet on Microsoft is a bet against technology". Yet in view of the stunning performance we saw from Microsoft, I would say that fortunately he was wrong in this call – and we'd have to see how accurate his bet will be on the US election (would anyone like to comment on this?)
To investors I would say this: Technology + "Ace" Strategy = Success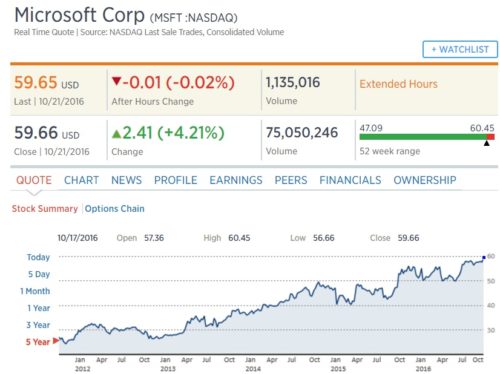 It is safe to say that a bet on Microsoft is indeed a bet on technology, but also on superior strategy:
A conglomorate like Microsoft has the ability to wear several hats when it comes to strategy: It can be a market leader for it's core products such as Office and Excel, but it can be a fast follower with other products such as BingAds, Microsoft Azure, Microsoft Dynamics and social media (by which I mean Linkedin and Skype), which is now part of the Microsoft family following the acquisitions.
The first mover advantage that comes from being a market leader are tremendous and it is compounded for core products with a high global subscriber base. But there are several advantages of being a follower too.
What are the advantages of being a fast follower in the case of Microsoft?
A fast follower can sit back, let other innovators take their best shot at defining the market and even observe their success for a while. It can then prepare a suitable response, either by refining the end product to deliver a better value proposition, or in cases where it does not see a viable way to compete, an acquisition can be made.
How I see Microsoft as a fast follower: Salesforce, AWS cloud and Google Adwords are given sufficient leeway to make their mark. Then, suitable responses are prepared:
Microsoft Dynamics VS Salesforce: "Game on" was the most recent comment if I remember correctly.
Azure VS AWS: The most recent spike in the share price was precisely due to Azure.
BingAds VS Adwords: The market share of BingAds is rapidly growing, particularly in the US.
Since Skype social could not measure up to Linkedin that was handled through an acquisition.
Marketing campaign specialists are increasingly taking a safe bet on BingAds, rightly so. I am currently working on a BingAds course to help marketing agencies and businesses get up to speed with one of the biggest opportunities they are missing out on, particularly those who only acquire traffic via Google Adwords and Facebook. As a marketing consultant, I find it hard to imagine a client or their agency working without it. As part of the Microsoft network, Bing has a growing market share that exceeds 20% of search and display in the US and it is also rapidly growing in other countries. Should you wish to send any special requests for features on the course, please contact me via Linkedin or adriaanbrits.com